As a car lover, you must hear the name of Alfa Romeo. Alfa Romeo is a famous Italian car manufacturer brand who are mainly a subsidiary of Stellantis. You may know a lot about them but did you know who makes Alfa Romeo?
You may already know who owns Alfa Romeo. So, today in this article we will discuss who makes them and where are they made. Let's go.
Who Makes Alfa Romeo?
Fiat Chrysler Automobile (FCA) Group makes Alfa Romeo. Since 2007, after the acquisition of Alfa Romeo, FCA is manufacturing them. Though they are acquired by FCA for the last 14 years, still they themselves maintain their Italian flair.
However, Fiat Chrysler Automobile is considered the main manufacturer of Alfa Romeo. They are mainly an Italian-American multinational company who primarily known as a manufacturer of commercial vehicles, automobiles, auto parts, and production systems. 
Read More:  Chevrolet Corvette Stingray C8 2020-2026
All About FCA the Maker of Alfa Romeo 
Exor an Italian holding company is the largest (29.19%) shareholder owner of Fiat Chrysler Automobile. Under the maintenance of the Agnelli family now, it is the 8th largest automobile maker in the world.
In October 2014, the FCA group was established through the merger of Fiat S.p.A and Chrysler Group. Amsterdam was its corporate headquarters and London was their financial headquarters. 
Their mass-market brands operated through 2 main subsidiaries: FCA US (the previous name was Chrysler Group LLC) in Auburn Hills, Michigan, and FCA Italy (the previous name was Fiat Group Automobiles SpA) with headquarters in Turin.
FCA's portfolio included brands Alfa Romeo, Abarth, Chrysler, Dodge, Fiat Professional, Fiat, Jeep, Maserati, Lancia, and Ram Trucks. They acquired Alfa Romeo in 2007 and in 2016 Ferrari was spun off. FCA operated in four global markets (APAC, NAFTA, LATAM, EMEA).
Alfa Romeo's Journey with FCA
Alfa Romeo started their journey in the automotive industry in 1910. At that time Cavalier Ugo Stella obtained the shares in an automobile factory which was owned by Alexandre Darracq. It was first Located on the outskirts of Milan, Italy. Here they named the company Anonima Lombarda Fabbrica Automobili (ALFA) or Anonymous Lombard Automobile Factory.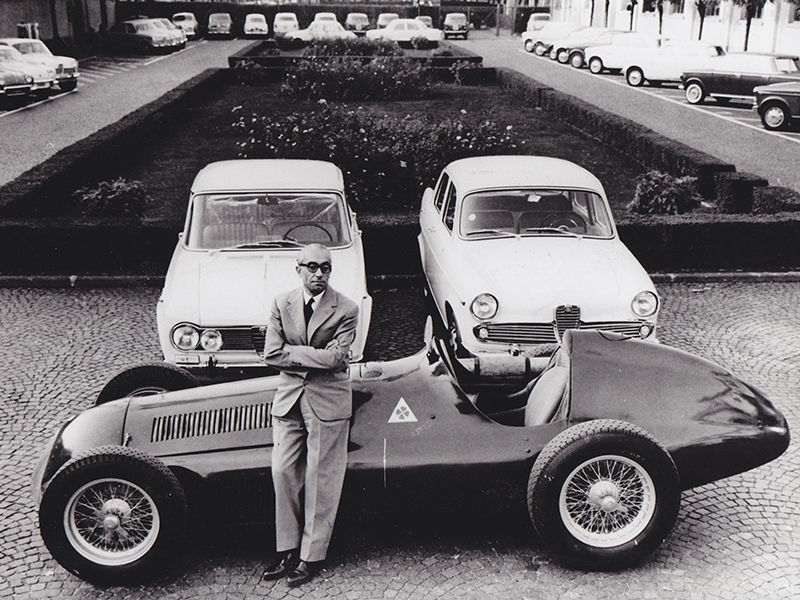 By the combination of the two teams, they were producing cars until just after World War 1, when Nicola Romeo acquired the company. A few years later, the factory started producing military equipment for the Italian military forces.
After the end of World War 2, Nicola Romeo was inspired by the unfinished ALFA factory cars. Darracq and Stella had both prided themselves on creating unique, innovative, and new styles of automobiles, and as a result, Nicola  Romeo decided to continue that legacy.
Thus Alfa Romeo was born and became a powerhouse of Italian luxury for decades. However,  in February of 2007, they became Alfa Romeo Automobiles S.p.A., which was a subsidiary of Fiat. In 2012, Chrysler and Fiat merged into Fiat Chrysler Automobile (FCA), and in January of 2021, the Group PSA merged with FCA to establish a new company.
Where Are Alfa Romeo Made?
We have been asked by many times where are Alfa Romeo vehicles made. Alfa Romeo is made in several locations in Italy. It is their distinct Italian style that contributed to gain this kind of popularity worldwide.
Alfa Romeo brand has returned to the market of the US in force. Here they bring with them groundbreaking luxury vehicles like the Stelvio luxury crossover and Giulia sport sedan. With its return to the United State, they have continued to produce some of the most unique luxury sports vehicles. 
Also Read: Ford Mustang Mach 1 Review
Conclusion
Now you know all about the manufacturer of Alfa Romeo and where are they made. If you want to know more stuff like Alfa Romeo price, about their materials, are they good or not? Or anything else about the Alfa Romeo you can ask a question in the comment box. We will try our best to provide the best information within 24 hours.