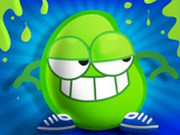 The Green Mission Inside a Cave
---
Description :
The Green Mission Inside A Cave is a fun platform adventure game. The protagonist of the game has the special ability to change its own color. Get the props or find the right path by changing the color of the bricks. How many levels can you pass by using your wisdom? Good luck and have fun!
Keywords :
Skill, Puzzle, Platform, Obstacle, Kids, Jumping, Brain, Boy, Avoid, Android, Adventure, HTML5
Control :
Use the keyboard to play.
Author :
gamepix.com
---
Comments
Please login or register to post a comment